Ore knowledge
About graphite ore:
Graphite ore include amorphous graphite and flaky graphite. Amorphous graphite also call cryptocrystalline graphite. This ore have small graphite crystal, surface is earthy and industrial performance is not good. But this graphite ore have high grade, general 60-80%. But its flotability is bad. After flotation, the grade have no remarkable increase. Thus, if the grade is lower than 65%, shall not be mined, the grade between 65-80%, selection and then use. The feature of Flaky graphite is the graphite present as flaky or foliated, raw ore grade is not high, general 3-5%, can't
Exceed 20-25%. This graphite ore have good flotability and grade can up to 90% after flotation. So, raw ore grade with 2-3% can be mined. Flaky graphite have good performance and can be used to make advanced carbon product. So, we can't only consider the grade for different graphite, but also the type, then decide whether use the flotation process.
Flaky graphite have good flotability, so mostly use flotation to select. In China, generally use the kerosene or diesel as collector, 2# oil or new flotation oil as foaming agent. After many years production practice, 4# oil are considered as ideal foaming agent for graphite.
Generally, Cryptocrystalline graphite associate with mica etc silicate minerals. When flotation, can use starch, dextrin, organic glue, cellulose, etc agent to control the silicate minerals, for example, if the pyrite content is high, add lime and oxide.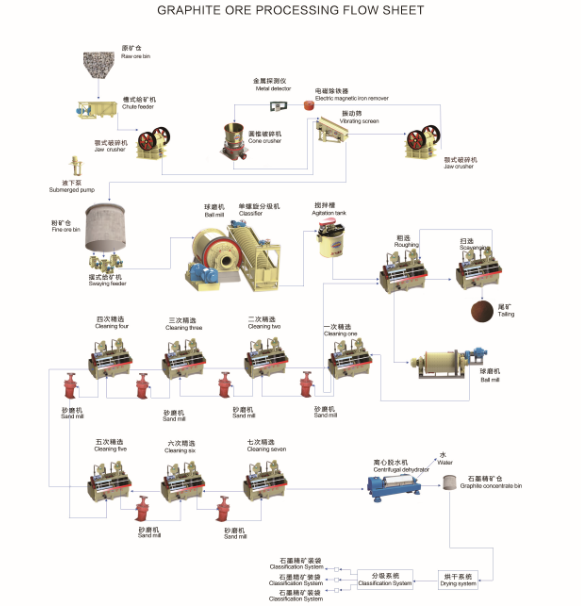 Introduction
Process flowsheet
1. multistage grinding multistage flotation
To prevent graphite flakes from breaking, generally use multistage grinding multistage flotation process. After multi grinding and flotation, the concentrated graphite will meet the requirements.
2. gravity and flotation united process
For graphite associated with heavy mineral, generally use gravity and flotation united process to select, that use gravity separation to separate heavy mineral firstly, then use flotation to process the light mineral.
Detailed crystalloid graphite mineral processing flowsheet:
Generally, graphite ore's hardness is medium hard or medium hard soft, grade is between 2-10%, crushing process is simple, use three-stage open circuit, two-stage open circuit or one-stage crushing flowsheet. Flotation process include multistage grinding, multistage selection, middlings return in order or concentrated. Multistage process have three form, that is concentrate regrinding, middlings regrinding, tailings regrinding. Crystalloid graphite most use concentrate regrinding process, normally, the recovery ratio can up to around 80%.
Cryptocrystalline graphite mineral processing flowsheet: although Cryptocrystalline graphite have high grade, it is different to separate. Cryptocrystalline graphite have low flotability and flotation only can preliminary concentrate, normally, use hand picking and then levigating for sale.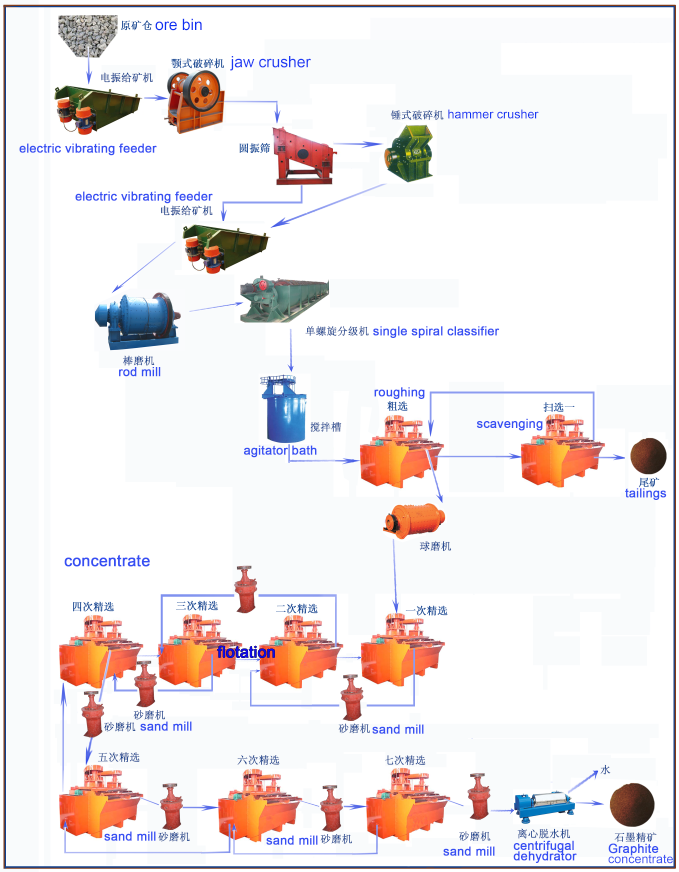 (Tips: You can add this webpage as favourite, or find it by serach in Google with the keywords below: graphite beneficiation, graphite mining, graphite ball mill, graphite processing, graphite production process, graphite milling machines, graphite ball mill, graphite processing, graphite milling machines, graphite beneficiation process, and so on.)